Danny Boyle Talks '28 Weeks Later' Sequel
[Thursday, March 10th, 2005]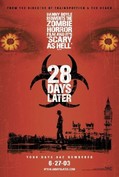 Danny Boyle is to followup his 2002 hit zombie film 28 Days Later with the sequel 28 Weeks Later, following with the aftermath of the original "It's got a very good idea in it," Boyle told Sci-Fi Wire. "[The idea] is that ... Britain has been emptied. There's nobody there. It's completely dead. And six months later the Americans arrive to reboot it back up again, particularly the franchises, obviously."

The sequel, which Boyle is involved with but won't direct, is "sort of to reintroduce life into the country," Boyle said. "So that's the premise of it. It's got a good idea in it. I like that."

A new cast will be used for the sequel, Boyle added. "It won't be the people who were in the first one," he said. "They're too busy. Naomie Harris is doing [the sequels to] Pirates of the Caribbean, and Cillian Murphy is in Batman [Begins]. They're doing really well. So good luck to them, really."

E-Mail This Article » Share your comments on '28 Weeks Later'