Union Gets 'Bad Boys 2' Female Lead
[Thursday, July 18th, 2002]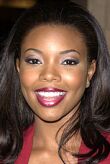 Gabrielle Union has signed a deal to topline as the female lead in Columbia Pictures' "Bad Boys 2," reports Variety.

She will leave for Miami to start lensing on "Bad Boys 2" shortly.

Union plays Syd Burnett, sassy, smart half-sister to henpecked Det. Marcus Burnett (Martin Lawrence) as well as the love interest of footloose Det. Mike Lowrey (Will Smith).

Original 1995 buddy cop movie "Bad Boys" made $141 million worldwide and seemed natural for a remake a la "Lethal Weapon." But in the years since, the team of Lawrence, Smith and helmer Michael Bay all became A-list gross participants like its producer, Jerry Bruckheimer.

E-Mail This Article » Share your comments on 'Bad Boys 2'