Portman To Join Cast On Cold Mountain
[Tuesday, June 4th, 2002]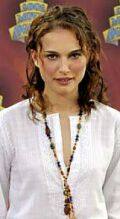 Natalie Portman is in advanced negotiations to co-star in "Cold Mountain," reports Variety.

The movie also stars Nicole Kidman, Renee Zellweger, Jude Law, Philip Seymour Hoffman, Giovanni Ribisi, Brendan Gleeson and Kathy Baker. Anthony Minghella will direct.

An episodic adventure based in part on Homer's Odyssey, "Cold Mountain" offers a slew of high-profile supporting roles. It's the story of Inman, a wounded Confederate soldier played by Law, who embarks on a perilous journey home to Carolina, hoping to reunite with his prewar sweetheart, Ada (Kidman). In his absence, Ada struggles to revive her father's farm with the help of a young drifter (Zellweger).

"I could not be more thrilled with the quality of actor this material is attracting; it's a real testimony to the appeal of Charles Frazier's magnificent novel that we have been able to assemble such a formidable ensemble," Minghella said. "This is an epic venture."

"Cold Mountain" is set to start filming next month.

E-Mail This Article » Share your comments on 'Cold Mountain'