Teri Hatcher Joins 'Coraline' Voice Cast
[Tuesday, May 23rd, 2006]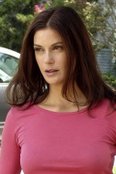 Teri Hatcher is set to lend her voice in a dual role opposite Dakota Fanning in Coraline, says the Hollywood Reporter.

Hatcher plays both the mother of the title character (voiced by Fanning) and her other mother in a parallel universe.

The young Coraline steps into a world that appears to be a much better version of her own reality, but when her artificial parents attempt to keep her there forever, she must escape the dangerous situation and take a brave journey to get back home.

E-Mail This Article » Share your comments on 'Coraline'