Skeet Ulrich Been Cut From Cravens 'Cursed'
[Tuesday, December 16th, 2003]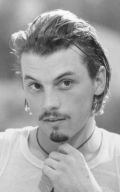 Skeet Ulrich has been axed from Wes Craven's Cursed according to MovieHole. Ulrich who had previously worked with Craven in Scream has been removed in the rewrite, due to the whole movie being reshot.

It's believed Joshua Jackson's new character, Jake, replaced Ulrich's old character, and every scene of Ulrich's character has now been excised from the film

Basically, with the film being near entirely rewritten, a few folks have had to go – and Scream star Ulrich [as well as Corey Feldman] was one of them. Ulrich got the job based on his previous relationship with Director Craven, who he worked on Scream with.

Cursed currently has in its cast Christina Ricci, Josh Jackson, Mya, Portia De Rossi and Shannon Elizabeth.

E-Mail This Article » Share your comments on 'Cursed'