Kelly Preston Joins 'The Cat In The Hat'
[Thursday, August 29th, 2002]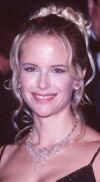 Kelly Preston

Kelly Preston has joined the cast of Universal Pictures/ DreamWorks Pictures "The Cat in the Hat," reports The Hollywood Reporter.

Bo Welch directing. "Cat" will see Mike Myers star as the mischievous feline in a striped stovepipe hat who magically enters the lives of a boy named Conrad (Spencer Breslin) and his younger sister, Sally (Dakota Fanning), and becomes a catalyst in getting them to understand the beauty of the simplicity of life. Preston will play the children's mother.

Alec Berg, David Mandel and Jeff Schaffer wrote the script for the feature film version.

Principal photography begins in the fall at Universal Studios.
More On 'The Cat In The Hat'...


E-Mail This Article » Share your comments on 'The Cat In The Hat'