'Fraggle Rock' Coming To The Big Screen
[Friday, October 20th, 2006]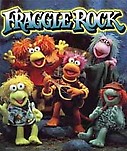 Jim Henson's 1980 cult hit TV show Fraggle Rock is coming to the big screen, according to the Hollywood Reporter.

Movie is being developed into a full-length live-action musical fantasy starring the classic characters.

Lisa Henson, who serves as co-CEO of the Jim Henson Co. with her brother Brian Henson, brought Zappa on board as exec producer after a pitch meeting with the children's author. "(Zappa) recently created his own fantasy property ('Mighty McFearless'), and we had him in to talk about books and movies," Lisa Henson said.

"During that conversation, I had an intuition that he might be a 'Fraggle Rock' fan. He jumped out of his seat when he heard our idea of making 'Fraggle Rock' into a feature-length movie." Zappa is developing a treatment in which puppet stars Gobo, Wembley, Mokey, Boober and Red will travel from beneath the Rock and venture into the human world for the first time.

E-Mail This Article » Share your comments on 'Fraggle Rock'