Greg Kinnear To Star In Drama 'The Feast Of Love'
[Monday, May 22nd, 2006]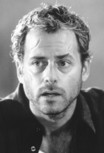 Greg Kinnear is to star opposite in Morgan Freeman in the drama The Feast of Love, according to the Hollywood Reporter.

Based on a Charles Baxter novel, the film revolves around a community of friends in Oregon and is described as an exploration of the magical, mysterious and sometimes painful incarnations of love.

Kinnear will play Bradley Thomas, an all-around nice guy who owns a coffee shop and paints on the side. Unfortunately, Thomas can't catch a break with his love life, losing his first wife to a lesbian and a second wife to another man. His character shares a unique bond with Freeman's character, philosophy professor Harry Scott.

E-Mail This Article » Share your comments on 'Feast of Love'