Selma Blair Joins Carpenter's 'The Fog'
[Friday, March 18th, 2005]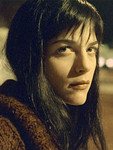 Selma Blair is joining Tom Welling and Maggie Grace in John Carpenter's remake of horror-thriller The Fog, according to the Hollywood Reporter.

The project, helmed by Rupert Wainwright, is set in a Northern California town near where a ship sank about 100 years earlier under mysterious circumstances in a thick, eerie fog. The ghosts of the deceased mariners return from their watery graves to seek revenge.

DeRay Davis and Rade Serbedzija have also joined the cast.

E-Mail This Article » Share your comments on 'The Fog'