roughrider
Thunderer


Gender: Male
Location: Canada
I grew up with the original trilogy, and The Road Warrior made the biggest impression on me as a kid when I was able to rent it on VHS. It was the most influencial of the three.

Mad Max 1, it was an impressive debut. Though Miller hadn't fully formed his post apocalyptic world at the time, everyone remarked on the film making talent behind what could have been just another exploitation revenge thriller. But it would take decades for me to see it without the hilarious bad American voice dubbing.

Mad Max: Beyond Thunderdome, it actually took me forever to sit down and watch it in a full sitting. It just smacked of Hollywood taking the property and sanding down the rough edges, complete with the stunt casting of Tina Turner as his nemesis. As Miller shared his directing duties with someone else, his lack of passion behind the camera was reflected on screen. It's still good, but not really great.

Now, Mad Max: Fury Road - it was one the ten greatest movie experiences I ever had in a movie theatre, where I was so engaged it was like an out of body experience. That's only happened with films like the Original Star Wars trilogy, Saving Private Ryan, The Lord Of The Rings trilogy - films where I feel the director has me totally in grip. It was the best film of 2015.

__________________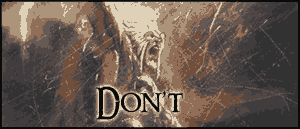 "I'm not smart so much as I am not dumb." - Harlan Ellison
Last edited by roughrider on Jul 12th, 2020 at 03:43 PM