I could have sworn that I was the one who linked to that information.
And your entire argument about a creature that large not being found in a location like it was indicates that you are unaware of the pegalic fish that exist in the open ocean. You do know that there are large creatures that pass through oceanic deserts, don't you?
What about the increased phytoplankton concentration in the region the bloop was heard from? You do know that there is a large drop north of the area?
What about migration patterns for the creature?
Would not the large animal be able to cover vast distances of ocean, while in search of food?
You're attempt to pass of "ocean desert" as a anything but a relative term to the other parts of the ocean, tells me that you're arguing for the sake of arguing, now. Nothing you've said changes what I said.
And, you have a bad habit of saying the same things I do.
"Even in the Arctic and antarctic areas, there is significant life near the surface, under the ice."
I guess "significant life" doesn't cut it for you?
And, no, you've shown your knowledge of oceanic life is lacking. You'd know that information on sympagic life is limited and the bounds of biodiversity relatively unknown. This applies for much of the oceanic strata in the Arctic and Antarctic areas. Wanna talk about deserts, there's your oceanic deserts. Life is extremely limited at the most treacherous parts of the poles. Very little phytoplankton can grow there.
More on topic:
Phytoplankton = the vast majority of zooplankton food.
Zooplankton = a probable food source for an animal 3 times larger than a blue whale.
But, you probably want to start talking about how much chlorophyll containg organisms live near the poles. Yada yada. No need to keep talking in circles with you and I telling each other what we already know.
K.
So how does that change anything I've said?
It doesn't.
Next, I supposed you'll reply with phytoplankton density being drastically reduced in number, in these deserts, and then say that the Zooplankton rely on those phytoplankton, then tell me that the pelagic animals are few and far between in these deserts and that I don't know what I'm talking about.
There's no need to cover things that both of us already know.
You made faulty assumption while calling me silly, I provided insight. That's it.
Yeah, cept you kind of already hit on currents, life, and life following currents. And I hit on large, macroscopic life, existing in the open ocean, outside of major currents.
Not only this, but I've provided additional insight, still further, from my previous post.
And, you've yet to refute the largest piece of evidence that is not in your favor: they matched the audio to known animal profiles.
If you don't think large creatures swim through the weak spots, then you're wrong.
You do know that blue whales pass through that area as part of their migration patterns, right?
You do know that there is a migration patter for humpback whales, right in that area, right?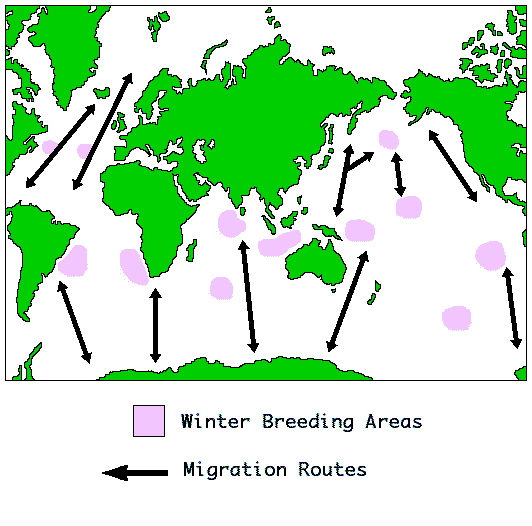 But, you're right, I'm wrong. We can settle at that and I'll go back to wondering what kind of creature it was and you'll go back to thinking my wondering is silly.