thematrixmaster
The Almost Chosen One


Gender: Unspecified
Location: United States
MATRIX 4: An Inevitability?
Here we are in the month of December and the media machine surrounding one of the biggest trilogies in recent movie history has subsided. Yes, I am talking about The Matrix Trilogy. Love it or hate it, they got movie lovers worldwide talking, discussing and debating. But with rumours coming out of Hollywood that New Line and Joel Silver want to continue the movies with possibly at least two more sequels (with or without the participation of either Keanu Reeves or the Wachowski brothers) do we really need this story to continue? Could there possibly even be a way to continue the story?

***WARNING SPOILERS AHEAD! IF YOU HAVEN'T WATCHED THE MATRIX YET AND DON'T WANT TO KNOW WHAT HAPPENS STOP READING NOW***

Not that I think that will apply to anyone here. ;o)

The first answer that comes to mind is "NO!" but as Hollywood has shown us time and time again they never like to leave a near enough guaranteed money maker alone (Indian Jones 4, Die Hard 4, Lethal Weapon 4/5 etc etc) so the likelihood is that there will be eventually another sequel to The Matrix but I put it to you all that this has been planned already, and they set up the reasons in Matrix Revolutions.

Look at it this way, there is a long established tradition with fantasy and science-fiction writing to choose one of two formulas. Either Mythic, using a pantheon of Gods and ancient legends to build your story around, or using the Christian religion as a back-bone of the story (even Tolkien did this. If you don't believe me go find your favourite fantasy novel and have a read. You should see that it will fall into one of these two categories.) With Matrix Revolutions the Wachowski brothers showed that they fell into the later category and used Christianity as a back-bone for the story. This isn't a bad thing, as like I said people have been doing this sort of thing for years. But with this knowledge, if you look back at the other two movies you see more and more parallels (ok, so a lot of this is supposition, but read on anyway. At least it'll give you something to shout at me about).

The Matrix for instance was all about the birth, and eventual realisation of who Neo was. He was basically the worlds new Messiah and his awakening in the real world, education of what he could do in the Matrix and eventual rescue of Morpheus and defeat of Agent Smith all combine into Jesus' years in the wilderness between the time he was a boy and when he reappeared as a 30 year old man, sure in his knowledge of who he was.

Then in Matrix Reloaded you get the story of Neo, now firmly established as the real worlds Messiah, being tempted by the Devil (it's up to you to decide if that is the Merovingian or Persephone - but if it helps the Merovingian Dynasty is purported to be the descendants of Christ, real rulers of France who were deposed and supposedly all killed. But thats another story. And Persephone was the wife of Hades. So does that make Merovingian the Devil in the Matrix?) Also you have the fact that not everyone in the real world believes in Neo, with some of the counselors and military staff in Zion (lets carry on these interesting points - Zion was the name given to the stronghold captured by David, the second king of the Israelites and descendant of Jesus, above which was built the temple. The name eventually became a synonym for the city of Jerusalem) not too sure about him - even denouncing him in the Council Chamber, and Neo's pursuit by Agent Smith, who is slowly turning into an Anti-Neo or anti-Christ to Neo's Christ, so there are another couple of story points taken from the life of Jesus.

Onto the Matrix Revolutions. Now we get to the build up of the apocalypse. Everything is in danger, the real world city of Zion (which we have already established is an underworld version of Jerusalem) is in very real danger of being destroyed by the machines, while the Matrix city is being slowly taken over by Agent Smith, as he gathers all people to him and marks them with his sign (in this case his sign is basically looking like him) and Neo trying to avert both. And how does he do this? Why, he makes a deal with the machines. But not before his love gets taken from him (Trinity as Mary Magdalene?). And what does his titanic battle with Agent Smith do? Nothing, apart from make Neo realise that he has to become Agent Smith by allowing Agent Smith to infect him just like he has everyone else, change the Agent Smith code inside himself as he did once before and cleanse the world of this virus. From the look on Neo's face when this happens, he knew the eventual outcome, he knew that he would be sacrificing his life to save the world, thus becoming the savior of Man and Machine alike and ending the war (for now), basically dieing for the worlds sins.

So where does this leave us? Well, the final shot we see of Neo is him being taken away by the machines - to where we don't know. But what does that establish? Nothing really, until you look at the whole story. There is one thing missing from this story and that is the resurrection. Yes, thats right. If you look at the whole story so far the only reason for having a fourth movie is the return of Neo, for whatever reason. But what could the reason be? Well, the most obvious thing is that with the imminent launch of the online role-playing game The Matrix Online they are going to steer the story towards something big. The developers of the game have already said that there will be ongoing missions that you can accept from "Zion" (by which they mean them) and try to complete them. I wouldn't be at all surprised if that in a couple of years they put in a mission that see's someone having to be rescued from the Matrix, who's identity is unknown to the players, and when that person is found it turns out to be Neo, thus launching lead up to the release of The Matrix Resurrection movie, which will probably have the war between man and machine about to break out again and a newly resurrected Neo trying desperatly to avert it.

Sound far fetched? Think about it, this is actually logical and, I'm sorry to say, inevitable. It will take a few years for all this to come together, but then even that is understandable as by then they may well of managed to convince Keanu Reeves to once more take part in another Matrix movie.


Sati: Will we ever see him again?
Oracle: I suspect so. Someday.

__________________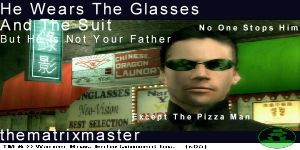 Last edited by thematrixmaster on Apr 29th, 2005 at 02:02 AM