joelsef
all u people are vampires


Gender: Male
Location: Trapped
Right, here's more.

"Is everything in order Severus?" asked Dumbledore, arriving in the central part of Knockturn Alley, which was relatively devoid of the usual shady crowd of witches and wizards. Snape emerged from an alley off to one side of the square, his robes covered in splotches of gray soot and dust. His hair looked greasier than ever.
"Actually Headmaster, there are a few things out of place, shall we say. We've used Dark Detectors on nearly all the shops and nothing set them off. However, when we checked Wig's store, where the Death Eaters refused to leave before, we found, or rather, didn't find something interesting."
"Explain, Snape," growled Moody, walking out into the center of the square, his magical eye speeding around rapidly inside it's socket, searching all of the stores.
Snape's lip curled as his continued. "There seems to be a single item missing from Wig's store that was there yesterday afternoon," he added, looking over at Wig, who was shuffling his hands nervously.
"And what might that be, Severus?" questioned Dumbledore with a small smile, while Tonks, Mr. Weasley, Lupin, and Kinglsey began surveying the different alleys that branched off of the main square.
Snape looked slightly as though he were having an internal struggle. "A Lethifold, Headmaster," he said quietly, his dark eyes staring off into the distance.
Moody whirled around, though it seemed that one would have to have magical ears to hear Snape's whisper from that distance.
"A Lethifold ?" he half-yelled, rounding on Snape, who drew his wand in automatic self defense.
"Alastor!" said Dumbledore warningly. Moody's eyes stared into Snape's for a moment, then Moody released Snape and returned to scanning the stores. Fixing his robes, Snape stared at Moody over his shoulder, with a look of utmost contempt.
"And why, Severus, is Mister Wig in possession of a Lethifold? I hope he realizes that they are of Class 5 danger, as reported by the Ministry."
Snape glanced down the alley that contained Josten's shop. "For security purposes. The Lethifold will only be released when an untrustworthy character-" he glared at Moody "- enters the premises. Otherwise, it is kept safely locked up."
"And so that is the only thing missing from the shops down here?"
Snape nodded. "Josten is finishing up surveying his store. When he finishes, everything will have been combed over thoroughly, and I presume that business shall go about as usual."
Dumbledore brought his hands from behind his back and let them hang at his side. "Indeed," he said, and he turned off to speak with Kinglsey and Lupin, when the voice of Tonks rattled through the square.
"Hey Harry! Um... Harry? What's the matter?"
Harry came tearing down the alley that Tonks was searching and into the square, and ran straight into Kinglsey as he rounded the corner.
"Sorry," he muttered, helping Kinsley to his feet.
" 'salright. You ok, Potter?" questioned Kinsley curiously, while brushing off the seat of his robes.
"Need to see Dumbledore," Harry managed to say as he ran toward Dumbledore, twice nearly tripping over himself.
"Professor, professor!" he yelled, stopping in front of Dumbledore and Lupin, who were looking obnoxiously calm, Harry thought.
"Harry, what brings you down here?" asked Dumbledore lightly, but Lupin was eying him suspiciously. "I thought you were with Mr. Weasley and Miss Granger... and Hagrid."
"We're hear, Professor," came Hermione's dignified voice from behind Harry. She was red in the face and looked very tired indeed, as did Ron.
"Where's Hagrid?" Harry fired quickly, not wanted to lose Dumbldore's attention.
"Dunno," panted Ron, whose face almost matched his hair. "Left him... ah... at the pub," he finished breathlessly, and had to put his hands on his knees he was panting so hard.
Harry looked at him very suspiciously, and Hermione mouthed ' what ' rather angrily before Harry turned around again.
"It's just, Professor, I haven't had Occlumency in a long time, and I think I'm getting a little out of practice with it." Harry remembered how Snape had refused to continue teaching Harry the art of blocking his mind to outside influence, simply because Harry had viewed Snape's worst memory; and he felt guilty for not practicing closing his mind. "Anyway, I had another vision last night."
Harry expected Dumbledore to become angry with him, but he merely remained expressionless and waited for Harry to continue.
"Right, so I was Voldemort again and well... I dunno if this is right, because it showed someone there who couldn't be-"
"Who?" asked Lupin, looking at Harry intently. Harry hesitated, but decided not to waste anymore time. He could feel Ron and Hermione staring at his back, eager to hear the part Harry needed to speak.
"It's not important right now. What is important is this. There's going to be an attack; sometime soon, dunno when. There's going to be an attack at the-"
Just then, Mr. Weasley shouted for them to look in the direction he was pointing, which was behind Dumbledore and towards the northwest corner of the Main Square. No sooner had they looked, then Josten Wig emerged from the Alley, the rigid body of a black-robed figure floating in front of him.

__________________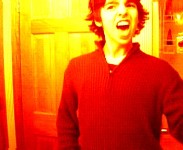 Just pretend the camera is a wand!