roughrider
Thunderer


Gender: Male
Location: Canada
Since Injustice has now wrapped in comic form - in a crossover with Masters Of The Universe no less - some of my reflections.

- The best strength it had was time. Taking years to build up to Year 5, we see the slow turn of Superman from heroic protector to aggressive defender to tyrannical despot, by the end. It feels more realistic, and the regime has the feel of a mob family by the end, with some characters feeling like they are in too deep and can't get out now, even if they do disagree with Superman.

- If Superman is a failure here, then Batman is also a failure. We didn't see enough of that spelled out as it's the Joker and failure of the system in Gotham that put this story in motion. Even though his side would eventually be victorious, he needs to step down and retire.

- Wonder Woman is the most inexplicable of the heroes turning to tyranny. It's like she got a personality transplant and was always this fascist in waiting. And she manipulates Superman like Lady Macbeth, ensuring he doesn't stray from his path. She gets it the worst.

- For all the talk about what happens in Injustice, DC was playing it safe because like The Dark Knight Returns and Kingdom Come, it's an Elseworlds story. Comparing it to Marvel's Civil War isn't fair, because Marvel went ahead with that story in their mainstream continuity, and both the characters and us readers had to deal with the emotional fallout and wreckage for several years. We had to watch the heroes eventually work through it and trust one another again and that took a long time. Stories like that have only been brief arcs in DC's mainstream stories - Identity Crisis, Public Enemies in Superman/Batman.

- This whole series & premise is built around DC's antiquated code of justice, namely that if a hero kills a villain (even a villain who really deserves it) they are no longer a hero and on the path to evil. This is something Marvel characters don't have to live with, though they are no less heroic with some having resorted to killing their opponents at times (Wolverine, Iron Man, Thor) without being judged and considered a murderer. When Wonder Woman Killed Maxwell Lord to save both Superman and Batman, the flak she endured from those two was ridiculous.

Consider Captain America as a personality match with Superman - he has killed people in wartime and as a agent for the U.S. government - but he would prefer not to kill if possible. He's not wracked with guilt over lives he's had to take in the past.

Match Daredevil and Batman. Daredevil has rarely killed anyone in his career (once instance was a helicopter pilot moving down civilians in the Born Again storyline) and I don't think he's weak because he hasn't killed opponents like Wilson Fisk and Bullseye (though he once let Bullseye fall to what could have been his death once, after Bullseye killed Elektra.) Contrast that with Batman in Gotham. who unlike Daredevil in New York is seen as the equal of the GCPD. Despite the fact his villains have gotten more and more murderous over the decades, he still fights them the old fashioned way and Arkham Asylum has become a joke of an institution with their revolving door putting them back out as fast as he puts them in. No Marvel character in New York is under the same kind of pressure to fix and redeem their city like Batman in Gotham City; this is the burden DC has him working under, and over the decades of escalation he's looked increasingly impotent. But don't kill one of his villains, oh no. That's brings us to...

- The Joker. He's DC's best villain, but also their most manipulative instrument in their moral code. After getting reduced to a jester clown in the late 1940's - because readers couldn't believe Batman would let him get away with one violent crime after another - he would take back his reputation as murderous psychopath in the 1980's with The Dark Knight Returns. And DC would just let him escalate more and more in the following decades. I equate him with Thanos at Marvel because they are both murderous nihilists, but Thanos is so powerful he almost impossible to kill and/or imprison. But Joker is just a man, and that various heroes plus the system hasn't stopped him for good has long strained my suspension of disbelief. Injustice and Kingdom Come both start the same way, with a mass atrocity by the Joker finally causing a hero to kill him once and for all, and that act apparently starts an age of darkness in the heroes who operate going forward. But Injustice is post-9/11, and so his act is domestic terrorism where several million are killed at once, and Superman is brainwashed into killing his pregnant wife and causing Metropolis to be destroyed. And yet, despite trying to appear closer to the real world than ever before - we are still supposed to see killing the Joker as an act of evil by Superman, in the eyes of DC editorial. And he gets chastised by several characters for doing it. This world plays at being more morally grey that other DC worlds past, but in the end the same old conservatism of the company rules the story. It's only the regime that gets it's hands dirty, we never see Batman resort to great extremes to win. Batman acted like he was just going to put Joker away again for this; if they had added dialogue that made it clear the government would execute Joker for this, or he had told Superman he understood about killing Joker but had to stop going in the direction he was going...

__________________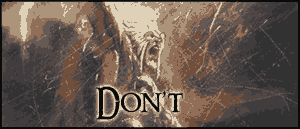 "I'm not smart so much as I am not dumb." - Harlan Ellison