SSJGGogeta
Senior Member


Gender: Male
Location:


By proving that he was 77,000 times FTL in base form on Namek. Then just multiplying that to SSJ3, lol. The best you could argue is that Zoom blitzes up to SSJB Goku, who can literally out-speed temporal manipulation, i.e. Time-skip. Meaning he moved faster than time itself, which is something that only Wally West Flash has been shown capable of doing.

Either see the feat as that, or see it as him overpowering Time-skip, which he could easily do to Zoom, considering Hit is vastly more powerful than Zoom, and Goku did it to Hit.

Either way, SSJB Goku AT LEAST is > Zoom, in speed.

__________________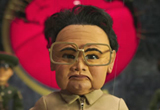 "Why is everybody so ****ing stupid?"- Kim Jong Il, Team America.