Ewan McGregor To Play 'The Great Pretender'
[Friday, September 9th, 2005]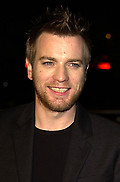 Ewan McGregor is to star in Relativity Media's comedy The Great Pretender, according to Variety.

McGregor will play four roles in two time settings -- 1938 and 1745. The story follows two ambitious producers in the 1930s who hire the hell-raising Hollywood legend Leslie Grangely to play Bonnie Prince Charlie in a movie about Scotland's Jacobite Rebellion in the 18th century.

But when Grangely hits the bottle and disappears, they trick an unassuming extra with an uncanny likeness to the star to fill his shoes. McGregor plays Grangely and the extra, as well as the two characters they play in the film-within-a-film -- Bonnie Prince Charlie, dubbed the 'Great Pretender', and the double used by the prince to confuse his enemies.

The project, helmed and written by Peter Capaldi, starts shooting next January in London.
More On 'The Great Pretender'...


E-Mail This Article » Share your comments on 'The Great Pretender'