Kevin Smith To Write And Direct 'The Green Hornet'
[Wednesday, February 18th, 2004]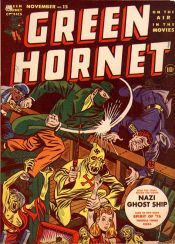 Kevin Smith is set to write and direct the film version of the classic comic action-adventure persona The Green Hornet.

Smith is keeping the plot a closely guarded secret, and will only go as far to say that it would remain very true to Trendle's characters with a few new twists.

"Kevin's tremendous work on our upcoming Jersey Girl, has demonstrated his continued growth as a filmmaker and we have no doubt that he will tackle this franchise for us in a compelling and entertaining way. In addition to being a great writer and director, Kevin knows more about comic characters, books and the creative process than anyone else I have ever met," said Miramax Films co-chairman Harvey Weinstein. "The character of The Green Hornet offers a myriad of possible film ideas and numerous merchandise and branded integration opportunities with our corporate partners, giving us a platform for a very viable and long standing franchise."

"Long-time comics geek gets to make comic book movie? This is a dream come true. I'm still reeling! You don't know how in love with Harvey Weinstein I am right now. I couldn't have asked for a better vote of confidence in me as a filmmaker than being afforded the opportunity with 'Hornet' to push beyond the boundaries of what I've done in film thus far," said Smith. Adding, "And making this movie with Miramax means that not only will we deliver an exciting, chop-socky-filled action flick, but it's gonna have a compelling story, believable characters, and great dialogue to boot! Let's roll, Kato!"

E-Mail This Article » Share your comments on 'The Green Hornet'