Indiana Jones 4 Shooting This Year?
[Friday, June 14th, 2002]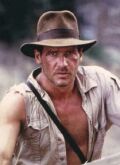 A quote from Paramount Pictures president Sherry Lansing indicated the recently announced "Indiana Jones 4" could start shooting later this year, reports Cinescape.

Here is the quotes from Cinescape.

While talking exclusively to a CINESCAPE reporter at the 28th annual Saturn Awards, Lansing said, "It looks like it's real. As you know, we concluded our deal with Steven [Spielberg] and George [Lucas] and they have a writer writing… As soon as their happy with it, along with Harrison [Ford], I'm sure we'll be happy too. I certainly hope it's within this year we get to start making this movie. I don't know if it will be, but I can hope. We're really, really excited, and I know they're excited. They're keeping it very close to their vest."

She said it would still be a 2005 release. But if it did start shooting this year?

"Well you know. I live in hope," she said.

So we could see it production on it beginning soon.
More On 'Indiana Jones 4: Kingdom of the Crystal Skull'...


E-Mail This Article » Share your comments on 'Indiana Jones 4: Kingdom of the Crystal Skull'