Sean Connery Returning For 'Indiana Jones 4'?
[Monday, April 10th, 2006]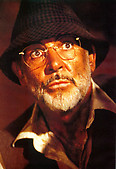 Sean Connery may be reprising his role as Professor Henry Jones for Indiana Jones 4, says Ananova.

Harrison Ford, who is returning as Indiana Jones, says his characters father may join him in the third movie. Ford is expected to begin working on the movie and hopes Connery will join him.

"I can't really say, but I would hope," he told IMDB.
More On 'Indiana Jones 4: Kingdom of the Crystal Skull'...


E-Mail This Article » Share your comments on 'Indiana Jones 4: Kingdom of the Crystal Skull'