Kelly Brook Up For Bond Role In 'Casino Royale'
[Monday, September 26th, 2005]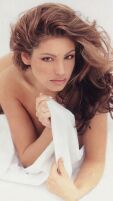 Kelly Brook has reportedly been asked to audition for the next James Bond movie Casino Royale, says the Sun newspaper.

The paper quotes a source as saying: "Kelly realises she has to play on her biggest asset - her body.

"She'd make a great Bond girl. She's already a hit with the directors because of her amazing figure.

"Bond films have never been about stick thin girls. They celebrate beauty and curves. It all hinges on her audition."

E-Mail This Article » Share your comments on 'Casino Royale'