'Casino Royale' Makers Still Looking For Bond Girl
[Wednesday, January 11th, 2006]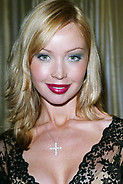 Movies bosses are running out of time to find the Bond girl for Casino Royale, says Variety.

The movie, which begins filming on January 30th, currently only has Daniel Craig and Judie Dench signed up. The rest of the cast still has not signed up.

Director Martin Campbell's priority is said to be finding a female lead. Four actresses are reportedly reading for the part this week in London with Craig. The hope is that a decision will be reached by next week.

Current names in the mix are said to be Natasha Henstridge and Australian actress Kimberly Davies. Charlize Theron and Angelina Jolie have also thought to have been in the running.

E-Mail This Article » Share your comments on 'Casino Royale'