Judi Dench Defends Daniel Craig
[Monday, March 6th, 2006]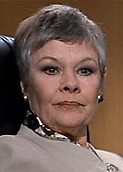 Dame Judi Dench, who will be reprising her role as M in Casino Royale, has defended Daniel Craig against critics, saying he has been cruelly targeted.

"I hate how people have been attacking Daniel Craig. It's despicable and it disgusts me," she told The Sun. "I have filmed with him in Prague and the Bahamas and he is a fine actor. He brings something new and edgy to the role."

"His critics will be proved wrong," she added. Casino Royale is expected to be released later this year.

E-Mail This Article » Share your comments on 'Casino Royale'