Daniel Craig Never Wanted 'James Bond' Role
[Friday, March 10th, 2006]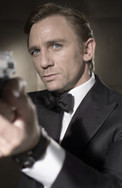 Daniel Craig, who plays James Bond in the upcoming Casino Royale, says he never wanted to play the role of 007.

The 38-year-old actor, who has reportedly received hate mail from some fans, said, "I never really wanted to do James Bond. Don't get me wrong, I want to make big movies and I want to make as much money as I possibly can, but there's not a tremendous emotional challenge," he told the Daily Mirror.

He added that he is worried that he will get the blame if Casino Royale is a flop. "It's a dodgy place to be walking. I don't really want to get the rap for destroying the franchise."

E-Mail This Article » Share your comments on 'Casino Royale'