John Landis To Direct 'Bond 20'?
[Saturday, June 9th, 2001]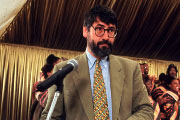 Popcorn reports that director John Landis could be taking the helm for the next Bond movie.

"A source close to the production has told us that director John Landis is in strong contention to take the helm on 'Bond 20'."

"If true, Landis' involvement would mark something of a departure from recent directors such as Michael Apted ('The World Is Not Enough') and Martin Campbell ('Goldeneye'), given that the American is best known for giving us 'The Blues Brothers', 'Coming To America' and 'Three Amigos'."

The site was able to contact Eon Productions, the company behind the franchise. Their spokesperson told Popcorn that they "haven't employed" anyone to take the director's chair as yet. The same goes for the recent story about Lady Victoria Hervey being considered for a role. According to Eon "they are both rumours."

E-Mail This Article » Share your comments on 'Die Another Day'