Charlize Theron Is To Star As Bendis 'Jinx'
[Wednesday, April 28th, 2004]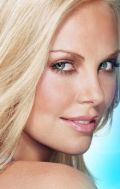 Charlize Theron is in negotiations to star in Jinx, an adaptation of a Brian Michael Bendis comic book, according to The Hollywood Reporter.

Jinx is about a bounty hunter who has to learn to trust a wanted criminal so they can team up to find millions of dollars of abandoned mob money in order to start a new life together.

Bendis, who spent 2 1/2 years writing and illustrating the comic, will adapt his own work. Bendis is considered a star in the comic world and has won the Eisner, the comic world's equivalent of the Oscar, five times, including writer of the year the past two years.

Among the numerous books he is writing are "Ultimate Spider-Man" and "Daredevil" for Marvel Comics, and several of his independent comics are being developed as feature films. "Torso" is set up at Todd McFarlane Prods., while the award-winning "Powers" is set up at Sony.

"This is not the traditional comic book movie, which tends to be more about concept," Bendis said. "This is a crime novel that is illustrated so you're more interested in the voice of it. Universal understood that and has thankfully given me a fantastic opportunity bring the character of Jinx to the big screen."

E-Mail This Article » Share your comments on 'Jinx'