Keira Knightley In 'Jurrasic Park 4'?
[Wednesday, July 16th, 2003]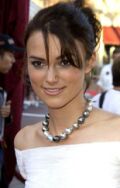 Box-Office Magazine talked to Keira Knightley (Pirates of the Caribbean) about rumors on the internet that Steven Speilberg is interested in her for Jurrasic Park 4, here is what she had to say:

"It's true! I didn't think anybody knew about that! It was so amazing because I've been a big fan of the original film for years. Steven said he liked my work in Bend It Like Beckham and wanted to meet me. I think Sam Neill really pushed for me as well, 'cause we had worked together before on [BBC TV series] Doctor Zhivago. There were actually two roles in Jurassic Park IV Steven thought I might fit. First there was the granddaughter part, which wasn't all that big a role, she was only in it at the beginning. The other part he was considering for me was substantially larger, but I won't go into any details in case I make Steven angry (laughs). I truly don't know if I'll end up getting either part or not. The script is pretty much locked down, but I think they're still working on final drafts at the moment. But just to be even considered by Steven Spielberg was a humbling honour".

Thanks to Dark Horizons.

E-Mail This Article » Share your comments on 'Jurassic Park 4'