200 People Get Sneek Peek At 'King Kong'
[Monday, March 7th, 2005]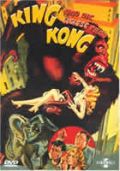 Peter Jackson invited 200 people to give them a sneak peek at footage of King Kong, according to Variety.

Just don't ask any of that privileged group about what they saw.

Jackson is "paranoid about anyone taking photos," says one attendee, whose gag slipped momentarily.

Jackson screened 18 minutes of footage of the $160 million remake, showing off his Weta digital workshop and lavish sound mixing facility.

Displaying some of the miniatures, he explained how he told his tech crew the miniature forest had to show the effect of wind rippling the branches and leaves as the big ape lumbers through it -- apparently a feat never pulled off before.

The director admitted to nerves as he introduced the footage, noting it hadn't been seen by anyone outside his team.

But reactions were uniformly bullish, from what Variety could glean.

"Fantastic. I haven't felt like that since I saw Jurassic Park, " one attendee said.

E-Mail This Article » Share your comments on 'King Kong'