Damian Lewis & Daryl Hannah In 'Love And Virtue'
[Monday, November 20th, 2006]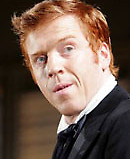 Damian Lewis, Daryl Hannah, Virginie Ledoyen and John Malkovich have signed up for Raoul Ruiz's period movie Love and Virtue, according to the Hollywood Reporter.

The cast also includes Peter O'Toole, Saffron Burrows, Stephen Dillane, Leonor Varela, Vincent Perez, Michael Madsen, Melvil Poupaud, Anna Massey, Cristian de la Fuente, Max Ryan, Alexa Rey and Boo Boo Stewart.

Lewis plays the hero, Orlando, a knight in King Charlemagne's court who is in love with Ledoyen's Angelica, in the picture which is based on legends "The Song of Roland" and "Orlando Innamorato."

E-Mail This Article » Share your comments on 'Love and Virtue'