Universal Pictures Takes On 'Magic Kingdom'
[Tuesday, February 15th, 2005]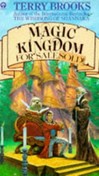 Universal Pictures has bought the rights to Terry Brooks' book series Magic Kingdom for Sale, says the Hollywood Reporter.

Stephen Sommers will direct the series, that follows the story of a widowed attorney who leaves his old life behind when he responds to a mysterious ad and spends his fortune to purchase a magical kingdom.

He and his two children get more than they bargained for when they find the kingdom on the verge of chaos. A sixth installment of the series will be published next year.
More On 'Magic Kingdom for Sale'...


E-Mail This Article » Share your comments on 'Magic Kingdom for Sale'