Tom Cruise Still Seeking 'MI:3' Director
[Thursday, August 5th, 2004]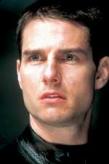 Tom Cruise says he is currently looking for a director to replace Joe Carnahan, who left the project last month citing "creative differences." "The director for Mission is just something I'm looking at right now," Cruise told Sci-Fi Wire. "I'm just evaluating and taking time."

Cruise avoided naming any specific directors. "I'm looking at everything right now is what I'm doing," he said. "I'm now just kind of putting it on hold and promoting Collateral and just evaluating."

Mission: Impossible 3 is currently slated for a June 29, 2005 release.
More On 'Mission: Impossible 3'...


E-Mail This Article » Share your comments on 'Mission: Impossible 3'