Johansson Training For 'Mission Impossible 3'
[Wednesday, December 22nd, 2004]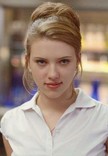 Scarlett Johansson says shes begun intensive training for her role in Mission Impossible 3, even though shooting for the movie has been delayed until late next year.

"It's been postponed 'til September while it's rewritten. But I'm doing weapons training for it!," she told Contact Music. "Just pulling the trigger is easy enough, but when you're loading your magazine and you have a machine gun and a handgun and a shotgun, and you're trying to figure out how to use them all."

"I'm being trained by someone who was in the special forces, so I get to know interesting stuff like how they train the Iraqi army," she added.
More On 'Mission: Impossible 3'...


E-Mail This Article » Share your comments on 'Mission: Impossible 3'