Ricky Gervais Lands 'Mission: Impossible 3' Role
[Monday, January 10th, 2005]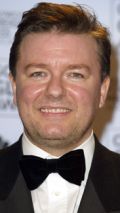 BBC's the Office creator Ricky Gervais is to take a role in Mission: Impossible 3 after meeting the Hollywood legend when he picked up two prestigious US Golden Globe awards, according to British newspaper The Daily Mirror.

Gervais, who played hapless boss David Brent, said: "I was delighted to be asked, who wouldn't?"

The 43-year-old, who yesterday also finished writing a script for The Simpsons, explained: "I know the director well and he said, 'Do you want a part?'. I just replied, 'Yeah, that will be great'."

Gervais has yet to finalise his role in the £85million blockbuster, which co-stars Scarlett Johansson.

But he said: "I greatly admire the director Jeffrey Abrams and Tom Cruise is the greatest film star of our generation. It should be fun."

Gervais has also made an appearance in the hit American drama Alias, which was directed by Abrams.
More On 'Mission: Impossible 3'...


E-Mail This Article » Share your comments on 'Mission: Impossible 3'