Laurence Fishburne Joins 'Mission: Impossible 3'
[Monday, June 20th, 2005]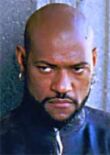 Laurence Fishburne and Philip Seymour Hoffman are to star in Mission: Impossible 3, according to the Hollywood Reporter.

They join Tom Cruise, Michelle Monaghan, Ving Rhames, Jonathan Rhys Meyers and Keri Russell in the sequel. Fishburne will play Cruise's mentor; Hoffman will play the villain. J.J. Abrams is set to direct.

Rhames and Cruise are the only holdovers from the original cast assembled to shoot "M:I-3" when it was scheduled to film last year. That cast also included Carrie-Anne Moss, Kenneth Branagh and Scarlett Johansson.
More On 'Mission: Impossible 3'...


E-Mail This Article » Share your comments on 'Mission: Impossible 3'