Fishburne Joins Eastwoods 'Mystic River'
[Tuesday, July 2nd, 2002]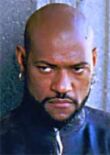 Laurence Fishburne is in final negotiations to topline in the Clint Eastwood directed "Mystic River" at Warner Bros, reports Variety

Fishburne would play the partner of a cop investigating a murder that links three old friends.

Script is from screenwriter Brian Helgeland ("L.A. Confidential"), who has joined forces with producer-director-actor Clint Eastwood to pen the adaptation of the bestselling psychological suspense novel by Dennis Lehane.

E-Mail This Article » Share your comments on 'Mystic River'