Michael Caine Joins Nolan's 'The Prestige'
[Friday, October 28th, 2005]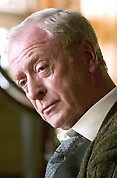 Michael Caine is set to join Christian Bale and Hugh Jackman in Touchstone Pictures magical thriller The Prestige, says the Hollywood Reporter.

The feature, helmed by Christopher Nolan (Batman Begins), sees Bale and Jackman play rival magicians in early 20th century London who battle each other for trade secrets.

The rivalry is so intense that it turns them into murderers. Caine, will play a former magician who teaches Jackman the tricks of the trade.

E-Mail This Article » Share your comments on 'The Prestige'