Anjelica Huston Joins 'Seraphim Falls' Cast
[Thursday, November 10th, 2005]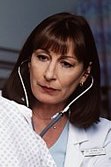 Anjelica Huston has signed on to star opposite Pierce Brosnan and Liam Neeson in the Western drama Seraphim Falls, says the Hollywood Reporter.

The feature centers on a Civil War colonel who fails to put down his weapon and instead hunts down a man to settle a grudge. Huston's role, however, is being kept under wraps.

David Von Ancken will be directing from a script he co-wrote with Abbey Everett Jaques.

E-Mail This Article » Share your comments on 'Seraphim Falls'