Frank Miller To Co-Direct 'Sin City 2'
[Thursday, November 16th, 2006]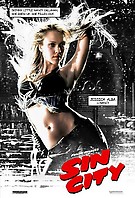 Sin City writer and co-director Frank Miller says that he will co-direct the upcoming sequel Sin City 2.

"Yes and yes," he told Sci-Fi Wire. "We have all kinds of technical things we want to do, but there's a major story called A Dame to Kill for [which was, fittingly, the second Sin City story and is a prequel of sorts to The Hard Goodbye] that we're going to adapt," Miller said. "That'll include a new femme fatale and other characters."

Rodriguez is said to have asked Angelina Jolie to play the role of Ava, ex-lover of Clive Owen's Dwight. "There are a number of short stories that will be interlaced between them and a brand-new story that I'm just developing right now featuring Nancy Callahan [Jessica Alba] and her reaction to the death of John Hartigan."

E-Mail This Article » Share your comments on 'Sin City 2'