Will Eisner's 'The Spirit' In Live Action Movie
[Thursday, April 7th, 2005]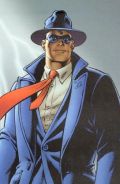 Comic book writer Jeph Loeb is to write the live action feature version of the late Will Eisner's seminal superhero The Spirit, according to the Hollywood Reporter.

Eisner created The Spirit in 1940 as a newspaper supplement. It was a detective adventure strip about a masked hero who protects Central City using his fists, cunning and an unbelievable tolerance for punishment. The strip quickly became known for its cinematic and atmospheric feel, as well as for its femme fatales.

Eisner, who died in January, inspired later generations of comic book artists. The comics' version of the Oscars, the Eisners, are named after him.

E-Mail This Article » Share your comments on 'The Spirit'