Kate Beckinsale Confirms 'Underworld 2'
[Friday, April 23rd, 2004]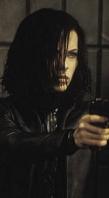 Kate Beckinsale, star of the original Underworld, has confirmed that she will be reprising her role as the vampire Selene in Underworld 2.

"It's under lock and key at the moment, but I know that they're definitely talking about it," Beckinsale told Sci-Fi Wire. "There's lots of furtive reading of scripts in the bathroom. So I think they're writing it, but I think they don't want to get me involved in case I freak out about something."

Len Wiseman, director of the original movie, and co-star, Scott Speedman, are both thought to have signed on for the sequel.
More On 'Underworld: Evolution'...


E-Mail This Article » Share your comments on 'Underworld: Evolution'