'Jimmy Neutron' Sequel Gets 'Thornberrys' Scribe
[Thursday, June 20th, 2002]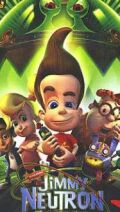 Scribe Kate Boutilier, who has sole writing credit on the upcoming animated film "The Wild Thornberrys," has closed back-to-back writing deals with the studios to script the sequel to "Jimmy Neutron: Boy Genius" and the Jamie Foxx starrer "We Do," reports The Hollywood Reporter

Boutilier is understood to be at work on both projects, for which she received a total of mid- to high-six figures.

The log line of the sequel to "Neutron" is still being hammered out, sources said.

Meanwhile, the comedic project "We Do," formerly announced as the untitled Jamie Foxx project, will see Foxx star as a guy who marries a woman only to find out that he has also married into her entire extended family.
More On 'Untitled: Jimmy Neutron Sequel'...


E-Mail This Article » Share your comments on 'Untitled: Jimmy Neutron Sequel'