Dakota Fanning With Cruise In 'War Of The Worlds'
[Tuesday, August 31st, 2004]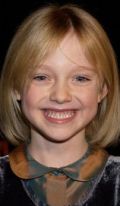 Dakota Fanning is going to star alongside Tom Cruise for director Steven Spielberg in War of the Worlds.

Fanning will portray the daughter of Cruise's character in the production, which is being fast-tracked to start shooting in November.

War of the Worlds, is an adaptation of the 1898 H.G. Wells novel about aliens invading the Earth, is being prepared for a 2005 release.

The 1938 radio performance of "War of the Worlds" by Orson Welles' Mercury Theater ignited a nationwide panic among listeners who didn't realize it was fiction. The book also inspired a 1953 film starring Gene Barry and Les Tremayne.
More On 'War of the Worlds'...


E-Mail This Article » Share your comments on 'War of the Worlds'