Robert De Niro Is Wondering 'What Just Happened'
[Thursday, October 27th, 2005]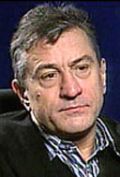 Robert De Niro is to star as the writer-producer Art Linson in What Just Happened, according to the Hollywood Reporter.

Barry Levinson is directing with De Niro playing a desperate movie producer hanging on to the tattered threads of his career as he tries to maintain his dignity while surviving the mounting humiliations of Hollywood.
More On 'What Just Happened'...


E-Mail This Article » Share your comments on 'What Just Happened'