Bruce Davison Is To Reprise Role In 'X-Men 2'
[Friday, July 12th, 2002]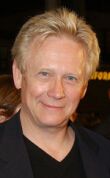 SciFi Wire reports that Bruce Davison has been confirmed to return in the sequel "X2" despite the fact that he was turned into a pile of goo at the end of the movie.

"I'm going up [to Vancouver] to do something in X-Men 2," Davison said. "Sen. Kelly, they're going to rejuvenate him."

Kelly melted into a puddle of goo in the first X-Men. So how will he return? "Well, I can't tell you that," Davison said. But he did say that it was important to have a character like Kelly in the superhero film, because "it's sort of the human voice of melted reason."

In the first film, Kelly took a hard stance against mutants. This time around, Davison said that would change. "He is one, isn't he?" Davison said coyly.

X2 is currently in production, aiming for a May 2, 2003, release.

E-Mail This Article » Share your comments on 'X-Men 2: X2'