Sara Paxton Joins 'Aquamarine' Cast
[Tuesday, January 18th, 2005]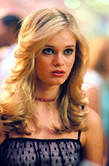 Sara Paxton has signed on to star as the lead in 20th Century Fox's comedy Aquamarine, says the Hollywood Reporter.

The project, helmed by Elizabeth Allen, is based on an Alice Hoffman children's book, and centers on two 12-year-olds who discover a mermaid named Aquamarine (Paxton) in their beach club's swimming pool.

Teen pop-star JoJo and teen star Emma Roberts have already been cast as the two girls.

E-Mail This Article » Share your comments on 'Aquamarine'