McG To Direct Charlie's Angels 2
[Friday, November 16th, 2001]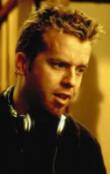 Joseph McGinty Mitchell or better known as McG, director of Charlie's Angels has agreed to direct the sequel, reports Variety.

McG has agreed a deal to direct the film, and Cameron Diaz appears to be in talks alsofor the sequel.

Drew Barrymore who previously had produced 'Charlie's Angels' has not joined on to produce the sequel, as yet, she had said that it would conflict with her plans for a family with her husband Tom Green.

Garcelle Beauvais has been in talks to take Barrymore's role as Dylan.

John August has also returned to scribe the movie.
More On 'Charlie's Angels 2: Full Throttle'...


E-Mail This Article » Share your comments on 'Charlie's Angels 2: Full Throttle'