Pink To Sing And Star In 'Charlies Angels' Sequel
[Tuesday, September 3rd, 2002]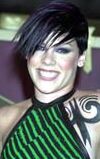 Pink is reportedly set to sing the theme for the next Charlie's Angels film, reports The Sun.

She will also have a cameo role in the movie, she will play herself in the film.

"Charlie's Angels 2: Halo" will again star Drew Barrymore, Cameron Diaz and Lucy Lui.
More On 'Charlie's Angels 2: Full Throttle'...


E-Mail This Article » Share your comments on 'Charlie's Angels 2: Full Throttle'