Jennifer Garner To Begin Work On 'Elektra'
[Tuesday, April 6th, 2004]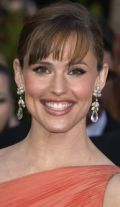 Jennifer Garner says that she's about to start work on Elektra, the spin off from 'Daredevil' in which she played the sleek and sexy assassin Elektra Natchios. "Elektra has a rich, rich story in the comic books, particularly in Frank Miller's saga for her," Garner told SciFi-Wire. "We definitely mine the hell out of it."

"Elektra is a very dark character, so this will not be a sunshine movie," she adds. "I've been training for Elektra for a couple of months. I've added Pilates in because I'm trying to make sure that everything is flexible and mobile and ready to go. Remarkably, my trainer for the last three years, Valerie Waters, has kept me pretty amazingly flexible through all this stuff that we've done. So I am in training and we start shooting in the beginning of May, right after we finish on Alias for the season."

Rob Bowman, director of The X-Files, is set to helm the Elektra feature, which will be released in early 2005.

E-Mail This Article » Share your comments on 'Elektra'