Ludacris To Be In Fast And Furious Sequel
[Thursday, August 29th, 2002]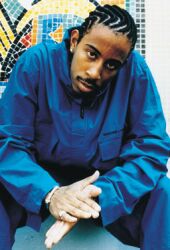 Rapper Ludacris has joined the cast of Universal Pictures' "The Fast and the Furious 2" for director John Singleton and Original Film, reports The Hollywood Reporter.

"Furious" stars Paul Walker and Tyrese as undercover agents who team up with a female undercover agent (Eva Mendes) to bring down a formidable drug trafficker named Carter Verone (Cole Hauser), who has eluded authorities.

Ludacris will play Taj, a friend of Walker's character.

Earlier this year, Ludacris was nominated for two Grammy Awards, including best rap sung collaboration and best rap album. He began his career as a radio DJ in Atlanta. As an actor, he had a small part as a customer in Lions Gate Films' "The Wash" and played himself in an episode of the Showtime series "Soul Food."

Production begins in the fall in Miami, with James Remar and Devon Aoki also starring.

E-Mail This Article » Share your comments on '2 Fast 2 Furious'