Angie Harmon Joins 'Fun With Dick And Jane'
[Friday, September 3rd, 2004]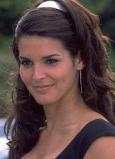 Angie Harmon is set to join Tea Leoni and Jim Carrey in Columbia Pictures' Fun With Dick and Jane, according to the Hollywood Reporter.

The original, which starred George Segal and Jane Fonda, followed an upwardly mobile couple who turn to bank robbery to get out of bankruptcy. The remake will revolve around a spokesperson for a large conglomerate.

Harmon will play the role of Veronica in the remake of the 1977 comedy, which is being helmed by Dean Parisot.
More On 'Fun With Dick and Jane'...


E-Mail This Article » Share your comments on 'Fun With Dick and Jane'