Romano & Leguizamo Talk 'Ice Age 2'
[Tuesday, March 28th, 2006]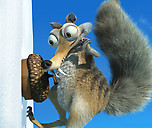 Ray Romano and John Leguizamo told SCI FI Wire they had a much better experience the second time around voicing the animated characters in Ice Age: The Meltdown. "I truly thought that I was going to get fired the first time," Romano told Sci-Fi Wire. "It's true. I would come back after taping, and I told my manager that I thought they were going to fire me every time. It's just such a weird process. I never knew if I was doing anything right, and I couldn't tell if it was working. ... The second time around was easier because I knew the character, and I knew the process."

Ray Romano will play Manny the mammoth, while John Leguizamo returns as Sid the sloth.

Leguizamo says its difficult recording in the studio. "It's a really confined space, and you can't sway your head or swing your arms or tip your head back or any of that, or else you'll completely screw up the recording," Leguizamo said.

Romano says he had a tough time getting used to the job. "It's such a weird process standing in front of the microphone, and you can't move left or right, and there are no other actors there," he said. "I couldn't tell if it was working, because you do it so piecemeal. You shoot one piece, then another piece, and it's not in order, and you don't know emotionally if you're doing too much or not enough. You just can't get into the right emotional space because there is no room. ... Sometimes you have to build up into a scene and get yourself ready to scream or fight or something like that, but I would do it, and they would say, 'That was great, but you were a little too far from the mic' or something like that."

"The animation looks so much better," Romano added. "They got a facelift. They look great. You'd think they could have improved on the way we do that sound."
More On 'Ice Age 2: The Meltdown'...


E-Mail This Article » Share your comments on 'Ice Age 2: The Meltdown'